Try out these Links

Read the BLOG
Read this Commentary

Check out the Safety Fast run

Check the

Try this MG Puzzle
(needs Java enabled)
Featured car of the day.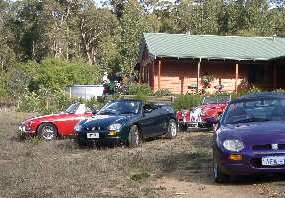 More pictures wanted.
Send me yours in JPG format,
under 40 kb. gl.
Past and future events:
Sunday October 8, Nog 'n Natter in Madora 10:00am
SAT-SUN October 14 & 15 Safety Fast Run
Tuesday November 7, Nog 'n Natter in Mt Nasura 7:45pm
Friday January 26 Lunch at Lesmurdie 11:00am
Tuesday February 6, Nog 'n Natter in Alfred Cove 7:45pm
Saturday February 24, City Lights Run from Floreat 6:00pm
Tuesday March 6, Nog 'n Natter in Wembley Downs 7:45pm
Sunday March 11, Breakfast BBQ in Kings Park 8:00am
Sunday April 1, President's run from Whitfords 9:45am
Tuesday April 3, Nog 'n Natter in South Perth 7:45pm
Tuesday May 1, Nog 'n Natter in Ashby 7:45pm

One of the best MG clubs is the
MG Owners' Club of Western Australia Inc.
The address is:
PO Box 181, Mt Lawley, WA 6050
Australia
Check their web site MGOCWA
Other notable cars.
Click for full size image.








For Sale.
Cars for Sale
Club T-Shirts for Sale.
Blue or White with a collar
and the MG Owner's club of Western Australia logo.
Great value at only $A12.00 each.
Personal shoppers only at club meetings.